Originally posted at The Sentinel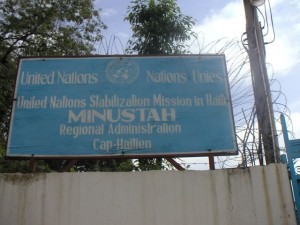 LEOGANE, Haiti (sentinel.ht) – An 18 year old woman, pulled over while traveling on Route National 2, in the town of Leogane, Saturday, was raped and sodomized by a soldier of the United Nations Stabilization Mission in Haiti. This is the latest of chronic crimes of sexual violence committed by UN peacekeepers in Haiti.
Currently hospitalized in Petit-Goave, Police Inspector Wilson Hyppolite said 18 year-old R███████ L████ born in Port-au-Prince, on June 28, 1995 is allegedly a victim of rape by a Sri Lankan soldier.
According to Hyppolite, who read the testimony given by the victim, the soldier was part of a road check on Route National 2 and signaled the victim to pull over into a side area. He then took the victim into a part of a structure not occupied by anyone where he choked and raped her vaginally and anally.
Police say a sample of sperm was retrieved from the location where the rape was said to had taken place. The sample was given to a lab for forensic analysis.
With cooperation with the major of the Sri Lankan contingent at the at the soldier's base, the name of the alleged rapist was learned to be, KDH Danishka, born December 12, 1986. According to the latest information, Inspector Hyppolite says this soldier is no longer at the base in Leogane but was taken to one in the provinces.
A Justice of the Peace gave an ordinance to take the victim to the state hospital in Petit Goave, where she can have a medically certified attest of rape that can accompany her in her quest for justice.
The United Nations has not commented on the incident.