by Trenton Daniel, Associated Press, Sept.16, 2013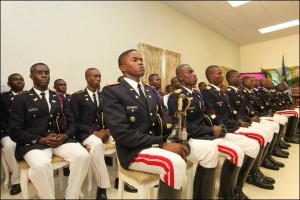 In a small ceremony in the farming village of Petite Rivere de L'Aritibonite, Defense Minister Jean-Rodolphe Joazile greeted the first 41 recruits who recently returned from eight months of training in Ecuador. They will be the first members of a national military force that the government of President Michel Martelly wants to revive.
Joazile said they will spend three months working alongside Ecuadorean military engineers among the rice fields in central Haiti to repair roads and work on other public service projects in their impoverished country, which was hit by a devastating earthquake three years ago.
"Haiti's needs are not in the infantry but in technical service," Joazile said in an earlier interview. "The country is in a state of reconstruction. We need mechanics."
Almost all of those in the new unit are recent high school graduates. They include 30 soldiers, 10 engineers and one officer and will report to the Defense Ministry. They won't carry weapons for now but could carry handguns, in three to four years, if either the recruits pay for the weapon themselves or the government receives financing to do so, Joazile said in an interview last week.
"If the authorities give them permission, it's not a problem," Joazile said.
The military support from Ecuador is part of a broader effort to help Haiti to rebuild from the 2010 earthquake, Ecuadorean Maj. Marco Navas said. Navas said Ecuador has given more than $30 million to Haiti since the disaster to develop the country's infrastructure.
One of the first road projects to be tackled by the new recruits is Route National 1, a highway that connects northern Haiti to the capital, and a road from a northern beach resort. "We'll be working with them little by little to build two roads," Navas said.
Brazil has expressed interest in training 1,500 more recruits, Joazile said. Five hundred would go to Brazil, and a 1,000 would stay in Haiti.
Martelly pledged to restore the National Armed Forces of Haiti while he was a candidate in the 2011 election, but he has backed off the plan as president. Some foreign diplomats have said the Haitian government rather should focus on strengthening its police force, for which there are only 10,000 officers in a country of 10 million people.
The government abolished the military under President Jean-Bertrand Aristide after years of military coups and human rights abuses. It would require a vote by Parliament to officially reconstitute an army. That could be tricky as Martelly has few allies in the opposition-controlled National Assembly.