by Jacqueline Charles. Originally posted at the Miami Herald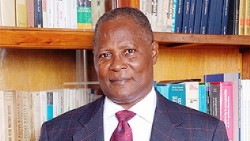 The former head of Haiti's Senate and National Assembly was elected the country's interim president Sunday after a vote that went to a second round and took nearly 12 hours.
Jocelerme Privert, 62, beat out two other candidates — both were former Senate presidents as well — to lead a 120-day provisional government charged with organizing Haiti's twice postponed presidential and partial legislative runoffs.
His historic election is part of an accord that hopes to address the constitutional and institutional crises created by former President Michel Martelly's departure from office. Martelly left office a week ago Sunday without an elected successor because of the disputed Oct. 25 presidential first round.
Opposition parties and local watchdog groups have been insistent that the vote was marred by "massive" fraud in favor of Martelly's handpicked successor, Jovenel Moïse. A relatively unknown serial entrepreneur who goes by the moniker "Banana Man," Moïse, has denied the allegations.
Still, the allegations have triggered violent street protests, calls for a vote verification and a boycott by opposition presidential candidate Jude Célestin . Célestin qualified for the runoff against Moïse but said he will not participate in a second round until, among other things, the recommendations of an electoral commission charged with evaluating the vote are applied.
Continue reading Former Senate leader selected provisional president of Haiti