by Kim Ives, originally posted at Haïti Liberté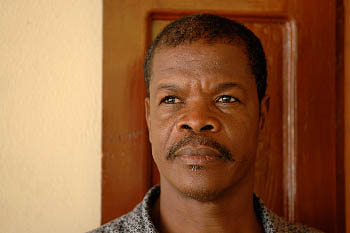 Aug. 12, 2017 marked the 10th anniversary of the disappearance of Haitian human rights activist Lovinsky Pierre-Antoine, then 52, who had days earlier announced his candidacy for Senator under the banner of the Lavalas Family party of then-exiled former President Jean-Bertrand Aristide.
Lovinsky had just finished a busy day of meetings and travel to Haiti's countryside with an international human rights delegation, whose members he had dropped off at their guest-house further up the Delmas Road from his home behind the studios of Haitian National Television (TNH) on Delmas 33. Alone, he drove away from them in a jeep that night of Aug. 12, 2007 and was never seen again.
Hearing of the disappearance, Haïti Liberté journalist Kim Ives called Lovinsky's cell phone about 36 hours later, on the afternoon of Aug. 14.
"At that time, it was not known that Lovinsky was kidnapped, just that he had disappeared," reported Haïti Liberté on Oct. 21, 2007. "The man who answered the cell phone told Ives that Lovinsky had indeed been kidnapped. 'I am responsible for this affair [the kidnapping]," the man told Ives. 'Why have you kidnapped him?" Ives asked. 'For money," the kidnapper responded.
"But remarks later in the conversation belie that response," the report continues. "The kidnapper asked Ives to call to Lovinsky's sister, Aurore, in Queens, NY to have her call the cell phone and speak to him."
Indeed, Ives relayed to Aurore the man's demand for a $300,000 ransom, but she was never able to contact the kidnappers to negotiate Lovinsky's release. Ives told her that during his two phone conversations with the kidnappers, they had several times asked Lovinsky questions. Ives clearly heard Lovinsky in the background replying to them.
"Why have you kidnapped Lovinsky?" Ives asked the kidnappers. "He doesn't have a penny, and he has devoted his life to fighting for the cause of the Haitian people, seeking justice and defending Haiti's sovereignty."
"I know Lovinsky better than you do," the professed kidnapper replied. "I know him much better than you. I know him better than my toe-nail that I wash every morning… He is a guy who has tried to put people like me in prison."
This statement suggests that Lovinsky's kidnapping was not simply for money, which the kidnappers never pursued, but was political. Since the end of the first coup d'état against Aristide in 1994, Lovinsky's September 30th Foundation had been championing justice for victims of political violence during Haiti's 1991-1994 and 2004-2006 coup d'états. For years in the 1990s and 2000s, every Thursday, he organized a picket-line of several dozen people on the Champ de Mars demanding justice. This put him at odds with the former Tonton Macoutes, death squad paramilitaries, and soldiers whom he regularly condemned on the radio and in demonstrations.
But Lovinsky, a psychologist by training, had many other enemies. He was a fierce opponent of the United Nations' military occupation of Haiti. "On Jul. 28, 2007, just three years into the 2004 coup and the 92-year anniversary of the first U.S. occupation of Haiti of 1915-1934, a crowd of protestors and witnesses watched Lovinsky lead a demonstration in front of UN headquarters in Port-au-Prince," wrote the California-based Haiti Action Committee in a recent statement marking the decade since Lovinsky's disappearance. "We listened to his speech, in which he made the connection between the current occupation and the first U.S. occupation. Lovinsky invoked the Haitian revolutionaries, like Charlemagne Péralte, who fought to end the 1915 invasion, and he said that that legacy of revolutionary struggle lives on in the people today. He said the people would always fight to uproot neo-colonialism and exploitation — they would always fight for their freedom. Two weeks after this speech, Lovinsky was kidnapped."
It is also possible that his kidnapping was orchestrated by political foes who did not want to see him run for a Senate seat. He was extremely popular among the Haitian masses and would have been a formidable rival to any other candidates.
Psychologically and financially bereft since her loss, Lovinsky's wife, Michèle Pierre-Antoine, is now bed-ridden in the advanced stages of Amyotrophic Lateral Sclerosis (ALS), also known as Lou Gehrig's disease, in Washington, DC with their two sons, now in their 20s.
The Haitian government – through the reigns of presidents René Préval, Michel Martelly, and now Jovenel Moïse – has never launched a serious and sustained investigation into the kidnapping. A decade later, the trail of the crime may be very cold, but it is certainly not unsolvable.
As Haïti Liberté asked on Aug. 11, 2010: "Will we ever know what happened to Lovinsky Pierre-Antoine?"
"In the case of Lovinsky Pierre-Antoine, the National Police have not even claimed that 'the investigation is continuing,' never having been able to say that it had even begun," the paper noted.
On this the 10th anniversary of his disappearance, Lovinsky's family, friends, and comrades – and the thousands of people whose life he touched – still demand answers about and justice for this lost champion of the exploited and oppressed.