by Jacqueline Charles. Originally published in The Miami Herald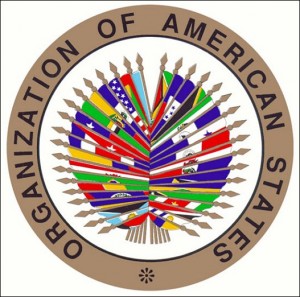 The head of an Organization of American States special mission to Haiti says he's confident that all sides will reach a solution in the coming hours on how Haiti will be governed after President Michel Martelly steps down this weekend.
Still, Ronald Sanders, the Antiguan diplomat who is leading the mission and chairs the 35-nation OAS permanent council, concedes that "every day, the goal posts seem to change."
"There is a different story about what settlement they're going to reach, as to how they go forward after Feb. 7," he said. "It's been a volatile situation."
The mission arrived in Haiti on Sunday at the request of Martelly, who asked the OAS to authorize a special mission following the indefinite suspension of a runoff election to choose a successor before the Feb. 7 constitutional deadline for him to leave office. Martelly also made the same request to the Community of Latin American and Caribbean States, which authorized a smaller mission that flew in and out of Haiti over two days to meet with the president, his presidential pick, Jovenel Moïse, and leaders of parliament.
Despite the delicate nature of the discussions, Sanders said he was hopeful a peaceful settlement would be reached if not by the end of Thursday, then by Friday when he is scheduled to leave Port-au-Prince.
"I am as confident as one can be in these circumstances that the deal that is now on the table will probably come to fruition on Feb. 7," he told the Miami Herald in an interview from Port-au-Prince.
Current negotiations focus on an interim president taking the reins of power, with current Prime Minister Evans Paul staying until he is either ratified by parliament or a new consensus prime minister is chosen to lead a caretaker government until new elections are held. Martelly also will leave office by Feb. 7. That point was stressed both by Sanders in private talks with the president, and by OAS Secretary General Luis Almagro, who took to Twitter this week to stress the point. Some members of the president's entourage have suggested that he could remain in office until May 14, the date he was sworn in five years ago.
Who will be interim president and how that will be decided remains up in the air.
While Haiti's constitution doesn't provide a clear road map for the current situation, Sanders said both leaders of parliament have told him and the other members of the OAS special mission they are going to "try and get to as close as they can to the constitution" for a solution.
"As they said to me, and I accept, 'This is an exceptional situation requiring an exceptional solution,' " Sanders said. "What I am pleased about is that it is they who are finding the solution. They are working together, desperately trying to get to a solution and that is the best thing that can happen. It is not a solution that anyone imposes on them; it is one that they devised, formulate, and it will be up to them to implement it."
But while an agreement would take Haitians and the international community over the immediate emergency, there is still the issue of the presidential and partial legislative runoffs. The vote was supposed to happen on Jan. 24, but was postponed amid fraud allegations that sparked violent street protests and a boycott by opposition presidential candidate Jude Célestin.
An opposition alliance of eight presidential candidates of which Célestin is part, referred to as the G-8, refused to meet with the OAS. Sanders, however, said he has met privately with some members to get their view of the crisis.
Prior to the mission's arrival, the alliance had said that it was not welcomed in the country and not needed to "meddle" in Haiti's affairs. Sanders stressed that the role of the mission is not to interfere in the internal affairs of Haiti but support Haitians finding "a Haitian solution" to the crisis.
He said he used his meetings with senators, business leaders, and others to try to correct "a lot of false ideas" about the OAS and its role in the disputed 2010 presidential vote. That election was also marred by allegations of fraud in favor of then government-backed candidate, Célestin. The OAS was called in to verify the vote count, and Martelly was moved into the runoff spot in lieu of Célestin.
Whoever is put in charge of Haiti's caretaker government will have to find a way to address the electoral crisis in order to allow for the vote to happen by April 14, and a new president to be sworn in by May 14, under the agreement being discussed.
A poll released Wednesday by the Brazil-based Igarape Institute, an independent research group, says despite deep voter disenchantment, most Haitians would vote if they had confidence that elections were fair. The poll was conducted prior to the scheduled Jan. 24 runoff and surveyed 1,766 randomly chosen adults across Haiti. It had a margin of error of about three percentage points.
Sanders said he doesn't believe anyone can stop the anti-election protests, noting that "people who have a vested interest in running for the presidency will try and take advantage of any vacuum to continue their campaigns. That is going to happen anyway."
"People who are in a political fight, struggle, they are going to remain in it," he said. "This country is ready for an election. The people of this country want an election to put an end to this matter so that their lives can continue. At the moment, it's dominated by the election."
"Everybody recognizes that the sooner the election can be held, the better," he said.