Originally posted at The Calgary Herald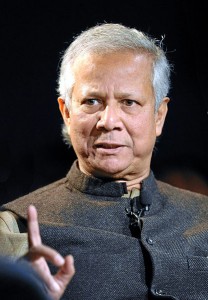 PORT-AU-PRINCE, Haiti – Nobel peace laureate Mohammad Yunus announced Saturday that his pro-business development group is financing several endeavours through a mix of loans and equity.
The projects that incorporate Yunus' development philosophy of "social business" include two poultry farms, a bakery and a plantation of jatropha plants that can be used for biodiesel, offering an alternative energy source while creating jobs for 200 farmers.
The amount invested in each will range from $80,000 to $500,000, and feature loans with interest rates ranging from 6-10 per cent.
Such "social businesses" must each have a social mission like a non-governmental organization, but also generate revenues to cover costs like a profit-making business.
Yunus, an international development expert, made the announcement on the first of a three-day trip to Haiti that includes field visits and a conference examining ways to use his development philosophy to ease poverty in Haiti.
It was the second time Yunus had come to Haiti since visiting a year ago to introduce his "social business" philosophy to the impoverished Caribbean nation. The country is still recovering from a January 2010 earthquake that toppled thousands of buildings and displaced more than 1 million people.
The Germany-based Yunus Social Business Fund, formerly the Grameen Creative Lab, opened an office in Haiti after the temblor.
Yunus is a Bangladeshi banker known for developing a microcredit program for entrepreneurs who were too poor to qualify for traditional bank loans.
He sits on a board of more than 30 philanthropists, former government leaders and executives that advise Haitian President Michel Martelly on economic matters. Former President Clinton, also the United Nations special envoy to Haiti, is a co-chairman.
Yunus also plans to launch a nationwide social business competition for university students before leaving Haiti on Monday.