by Nesta McGregor. Originally posted at BBC.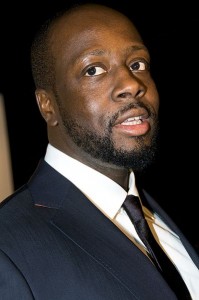 Wyclef Jean is facing an investigation into what happened to money he raised for victims of the Haiti earthquake.
The former Fugees star started a campaign after 230,000 people died in the disaster in 2010.
Two years later though there's controversy about how those funds were spent.
It's estimated the 42-year-old rapper, who was born in the country, helped raise millions of pounds for the Yele Haiti charity.
With help from some of his celebrity friends like Brad Pitt and Angelina Jolie, it's estimated he raised millions of dollars.
Yele Haiti folded as a company this summer with questions about how the money was spent.
US newspaper the New York Times claims a large amount went on luxury travel, offices and food.
It's also been claimed the charity employed people on inflated contracts.
Wyclef Jean has responded to the claims via his Facebook page, posting images of himself and charity workers in Haiti.
In a statement from his legal team, the rapper's promised to help with any investigation into the charity's accounts.
In 2010, he unsuccessfully bid to become Haiti's president.
It was rejected because the Haitian constitution requires candidates to have lived in the country for five years prior to an election.