Originally posted at Techday, July 16th, 2010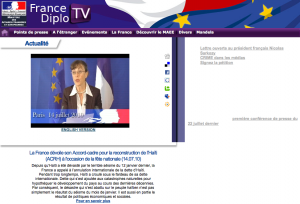 Hackers yesterday created a clone of the French Foreign Ministry website and made several outrageous announcements on behalf of the French government.
Adding insult to injury, the long awaited French Foreign Ministry website, a site that was to serve as promotional tool to attract foreign investors and tourists, failed on its first day live, creating not only an embarrassment but unintentional credibility to the faux site, which made several bogus declarations throughout the day.
Announcements made by the fake site, www.diplomatiegov.fr, included a pledge from France to pay "90 million francs" to Haiti to assist with post earthquake recovery.
The hackers also issued several fake press releases following the bogus declarations.
France's foreign ministry says it is considering legal action against the pranksters.