by Ezequiel Abiu Lopez and Danica Coto. Originally published at boston.com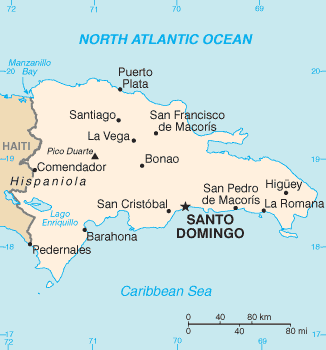 SANTO DOMINGO, Dominican Republic (AP) — The Dominican Republic's top court on Thursday stripped citizenship from thousands of people born to migrants who came illegally, a category that overwhelmingly includes Haitians brought in to work on farms.
The decision cannot be appealed, and it affects all those born since 1929.
The Constitutional Court's ruling says officials are studying birth certificates of more than 16,000 people and notes that electoral authorities have refused to issue identity documents to 40,000 people of Haitian descent.
The decision, which gives the electoral commission a year to produce a list of those to be excluded, is a blow to activists who have tried to block what they call "denationalization" of many residents.
"This is outrageous," said Ana Maria Belique, spokeswoman for a nonprofit group that has fought for the rights of migrants' children. "It's an injustice based on prejudice and xenophobia."
Until 2010, the Dominican Republic followed the principle of automatically bestowing citizenship to anyone born on its soil. But the court ruled that all Haitian migrants who came to work in Dominican sugarcane fields after 1929 were in transit, and thus their children were not automatically entitled to citizenship just because they were born here.
The Economy Ministry recently calculated that some 500,000 migrants born in Haiti now live in the Dominican Republic, but it gave no estimate for the number of people of Haitian descent living in the country. The Dominican Republic's total population is a little over 10 million.
The office of Haitian Prime Minister Laurent Lamothe declined to comment.
Edwin Paraison, a former Haitian Cabinet minister who has been working to improve relations between the two nations, criticized the court and warned that the ruling could hurt Dominicans. "The sentence expresses a rejection of the Haitian diaspora while setting a dangerous precedent that can be reproduced, if appropriate action isn't taken, against other immigrant communities, including Dominicans, in several countries worldwide," he said in an email.
David Abraham, a law professor at the University of Miami, said the decision was part of a larger effort to keep Haitians from entering the Dominican Republic and to encourage self-deportation.
He cited the racial differences between predominantly black Haitians and mixed-race Dominicans as well as Haiti's plight as one of the world's poorest countries.
"The fear of the Dominican Republic, of being pulled down to the level of Haiti economically and the 'blackening' of the country, has been an obsession of Dominican politicians for well over a century," he said.
The Spanish-speaking Dominican Republic and Creole-speaking Haiti share the island of Hispaniola and have a long, troubled history.
Haiti invaded and took over the Dominican Republic for more than 20 years in the 19th century. Then in 1937, Dominican dictator Rafael Trujillo ordered the massacre of an estimated 20,000 Haitians as he sought to expel them from the country.
After Haiti's devastating 2010 earthquake that killed an estimated 300,000 people, the Dominican Republic temporarily halted deportations and helped with relief efforts. It was a rare break in tensions that have since resumed.
Dominican lawyer Cristobal Rodriguez, who opposes the ruling, said the court disregarded the principle of law retroactivity by applying the criteria of a new constitution approved in 2010 to people born decades earlier.
Those affected by the court's ruling are basically left in limbo because a 2004 law that would have addressed the status of those born to migrants living illegally in the Dominican Republic was never applied.
"This ruling cuts against the rights of thousands of people born in the Dominican Republic, and could immediately undermine their access to education and health services," Reed Brody, counsel and spokesman for Human Rights Watch, said in a statement. "It's also likely to discourage an entire community from seeking help when they suffer abuses, for fear of authorities learning their status."
In Port-au-Prince, construction worker Jean Ronald said he was disheartened by the ruling but wouldn't be discouraged from crossing the border when he needs a job.
"This isn't going to stop me, because I need to find work on the other side of the island," Ronald, a single, 32-year-old father of two boys, said at a construction site in Port-au-Prince. "Life is a risk, and I'm going to take that risk."
Activists said they would likely seek help from the Inter-American Commission on Human Rights, which in turn might submit the case to the Inter-American Court of Human Rights.
Jorge Duany, an anthropology professor at Florida International University who has studied the migration of Dominicans in the Caribbean, said the decision comes after countless years of friction between the two countries.
"The impact could be truly catastrophic," he said. "They are stigmatizing an entire Haitian population."