by: Kevin Edmonds
Originally posted July 6, 2012 on NACLA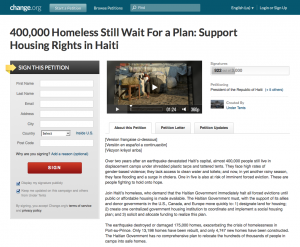 On July 2, Haitian grassroots organizations and their international allies launched a housing rights campaign called 'Under Tents' in response to the failure the Haitian government to "address Haiti's epidemic of homelessness." According to Haiti Liberté, the campaign will press for congressional and parliamentary action in the U.S., Canada, and Europe to support the construction of housing for displaced Haitians. Central to the campaign is an online petition addressed to President Martelly, Prime Minister Laurent Lamothe, U.S. Secretary of State Hillary Clinton, and other senior Haitian and American officials to take action to combat Haiti's severe housing crisis.
Reading recent headlines however, it would be easy—albeit mistaken—to think that progress was being made on the housing front. On July 26, the International Organization of Migration (IOM) reported that the number of displaced Haitians living in the camps had dropped below 400,000 from a high of nearly 1.5 million in the immediate aftermath of the January 2010 earthquake. What the IOM didn't tell the public was where the displaced people had gone, and why so many had left the camps.

The sad truth is that while the number of people living in the officially designated camps has decreased due to increasingly violent forced evictions where residents have been attacked, and camps have been demolished and burnt down, it does not mean that they have found decent shelter elsewhere. Instead, they are setting up tents, tarps and precarious makeshift houses on the hillsides of Port au Prince—often in worse living conditions than those found in the camps. The harsh reality of Haiti's homeless has been captured in photos by Bri Kouri Nouvel Gaye, a Haitian independent media group, which has also captured several forced evictions on film as they occurred.
In addition to the photo evidence, last week several significant reports were released which challenged the IOM's numbers, and provided much needed context to the statement on the decline of homelessness in Port au Prince.
The Centre for Economic and Policy Research dug deeper and revealed that:
The IOM touts a 75 percent reduction in the camp population since July 2010, amounting to a decrease of over 1.1 million people. Yet as of April 2012, only 12,000 rental subsidies were given out, 13,000 houses were repaired and just fewer than 5,000 new homes were constructed. In total, these three solutions account for only about 12 percent of the reduction in IDP population. Additionally, about 108,000 transitional shelters have been built, which would account for an additional 42 percent. However this likely overstates the effects of the transitional shelter, as it is estimated that only about 40 percent of transitional shelters actually went to IDPs.
It is in this discussion where the Under Tents group put forward a set of three essential demands. The group's press release states that
Haiti's homeless are demanding that the government immediately halt all forced evictions until public or affordable housing is made available. They request that the Government of Haiti, with the support of its allies and donor governments in the U.S., Canada, and Europe, move quickly to: (1) designate land for housing (2) create one centralized government housing institution to coordinate and implement a social housing plan and (3) solicit and allocate funding to realize this plan.
The release also highlights the precarious and often dangerous living conditions faced by those in the camps, stating that "The hundreds of thousands still living under plastic tarps and tattered tents face high rates of gender-based and other violence, lack access to clean water and toilets, and cholera treatment. One in five is also at risk of imminent forced eviction."
Considering the amount of lofty development proposals and promises made compared to the actual building of homes, more than two and a half years later, one would be hard pressed to call the reconstruction effort anything other than a disappointment, and with the high rates of forced evictions, a dangerous one at that.
While it is great to be ambitious—one has to follow through, as high profile announcements such as Prince Charles' intention of rebuilding the entire downtown area of Port au Prince, to the Clinton Foundation's construction of a 20,000 seat soccer stadium in Cite Soleil—are more distractions than necessities when so many are without homes. As the independent media group Ayiti Kale Je (Haiti Grassroots Watch) remarked "If Haiti's capital could be re-built from documents alone, reconstruction would be well underway already."
In the aftermath of the earthquake, Haiti was often cited at as an opportunity to build a stronger and more equitable nation. What we are witnessing is a reconstruction plan that has abandoned the basics—homes, water, sanitation, health and education—yet at the same time 5 star hotels and massive industrial parks for sweatshops are being constructed. As a result some of the most basic priorities are unfortunately being portrayed as unreasonable and impossible demands. Yet Jackson Doliscar of the Haitian grassroots organization Forces for Reflection and Action on Housing Matters (FRAKKA in Kreyol) summed up the fundamental mission of the campaign, reminding others that "We are asking simply for quality homes where people can live."
The campaign will run until World Habitat Day, October 1.