by Trenton Daniel, Associated Press, Sept.16, 2013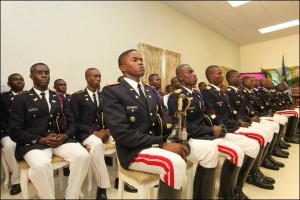 In a small ceremony in the farming village of Petite Rivere de L'Aritibonite, Defense Minister Jean-Rodolphe Joazile greeted the first 41 recruits who recently returned from eight months of training in Ecuador. They will be the first members of a national military force that the government of President Michel Martelly wants to revive.
Joazile said they will spend three months working alongside Ecuadorean military engineers among the rice fields in central Haiti to repair roads and work on other public service projects in their impoverished country, which was hit by a devastating earthquake three years ago.
"Haiti's needs are not in the infantry but in technical service," Joazile said in an earlier interview. "The country is in a state of reconstruction. We need mechanics."
Almost all of those in the new unit are recent high school graduates. They include 30 soldiers, 10 engineers and one officer and will report to the Defense Ministry. They won't carry weapons for now but could carry handguns, in three to four years, if either the recruits pay for the weapon themselves or the government receives financing to do so, Joazile said in an interview last week.
"If the authorities give them permission, it's not a problem," Joazile said.
Continue reading In the News: Haiti a step closer to having army again