Originally posted at The Calgary Herald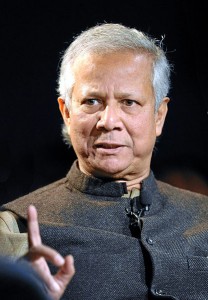 PORT-AU-PRINCE, Haiti – Nobel peace laureate Mohammad Yunus announced Saturday that his pro-business development group is financing several endeavours through a mix of loans and equity.
The projects that incorporate Yunus' development philosophy of "social business" include two poultry farms, a bakery and a plantation of jatropha plants that can be used for biodiesel, offering an alternative energy source while creating jobs for 200 farmers.
The amount invested in each will range from $80,000 to $500,000, and feature loans with interest rates ranging from 6-10 per cent.
Such "social businesses" must each have a social mission like a non-governmental organization, but also generate revenues to cover costs like a profit-making business.
Continue reading In the News: Nobel peace laureate Muhammad Yunus announces financing for 'social businesses' in Haiti