by Edith M. Lederer, Associated Press.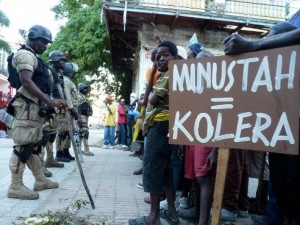 UNITED NATIONS (AP) — Secretary-General Ban Ki-moon told members of the U.S. Congress Friday that the United Nations is committed to helping Haiti overcome a cholera epidemic even though it is refusing to pay compensation to victims who blame U.N. peacekeepers for starting the outbreak.
Health officials say more than 657,000 people have fallen ill and more than 8,000 people have died from cholera since it was likely introduced to Haiti by U.N. troops from Nepal in 2010. More than 30,000 people have fallen ill and 440 have died in the neighboring Dominican Republic.
Ban was responding to a May 30 letter from U.S. Rep. Maxine Waters, a California Democrat, and 18 other Congressional "friends of the people of Haiti" who expressed concern at the U.N.'s rejection of the claims by 5,000 cholera victims and their families.
Continue reading In the News: UN Chief Tells US it Will Combat Cholera in Haiti