by Alissa Trotz. Originally published by Stabroek News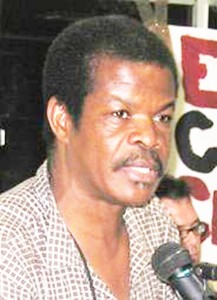 Tomorrow, August 12th marks the first anniversary of the disappearance of human rights activist Lovinsky Pierre-Antoine, Haitian political activist kidnapped for his active and tireless commitment to a democratic and sovereign Haiti. Special vigils will be held across the world, including Haiti, London, San Francisco and Los Angeles. The statement put out by the Global Women's Strike calls for us to remember Lovinsky's work for justice and his abduction, and to remind the US, UN and Haitian authorities that his family, friends and community, and people around the world will continue tirelessly to demand his safe return. It is true that in the English-speaking Caribbean we have our share of woes – political stagnation, rapidly rising crime levels and kidnappings. This might lead us to ignore what is going on elsewhere. But it is unfortunate (more than unfortunate, disgraceful really) that we know and seem to care so little about the ongoing struggles of the Haitian people, when it is Haiti that has given the entire Caribbean and the world one of the earliest lessons in liberation from oppression, with the example set by Toussaint L'Ouverture and the Haitian revolution. The crisis in that country today cannot be divorced from the shameful price it was forced to pay for its independence and defeat of Napoleon's army (a price that included compensating France for the ending of slavery and crippling sanctions imposed by the United States). As Trinidadian Calypsonian David Rudder sings:
Toussaint was a mighty man and to make matters worse he was black
Black and back in the days when black man knew his place was to be in the back
But Toussaint he upset Napoleon, who thought it wasn't very nice
And so today my brothers and sisters, they still pay the price
Red Thread Women's Organisation, which co-ordinates the Global Women's Strike in Guyana, has been actively involved in the campaign by helping to draft the petition to free Lovinsky which is being circulated worldwide, and to maintain the signatures collected. We have spoken to CARICOM and organised protests, one outside the United Nations and one outside the Brazilian embassy, to call for more action to free Lovinsky. It is difficult to raise and maintain public awareness, given the local political environment. We might ask, given the crime, the reports of torture and everything else going on in Guyana, why should we care about this one kidnapping somewhere else? At one level, it is sad but telling that this question should even be necessary. There was a time when our knowledge of and solidarity with struggles elsewhere was linked to our struggles in Guyana, was part of how we defined ourselves proudly as Guyanese. But we should and we must care, because of our historic obligation to Haiti, and because Lovinsky Pierre Antoine's disappearance is linked to his belief in and commitment to a free Haiti, to the struggles of the working people of Haiti. In this he belongs not just to Haiti, but to all of us who desire another, more hopeful future, for our Caribbean. In the words of David Rudder again:
Haiti I'm sorry?
We misunderstood you
But one day we'll turn around?
And look inside you
Haiti I'm sorry?
Haiti I'm so sorry
But one day we'll turn our heads
Restore your glory.
Below is information from the Global Women's Strike, issued for the first anniversary of Lovinsky's disappearance. Please take the time to read it carefully, to visit the website and blog and to sign the petition. Please take some action, however, small, in support of his safe return and in solidarity with the people of Haiti. At the end of the day no action is too small. One one dutty build dam.
¨Lovinsky Pierre-Antoine is co-founder of Fondayson Trant Septanm for victims of the 1991 and 2004 military coups against elected President Aristide. He is an advocate of those with least, especially single mothers and street children. He was abducted after meeting with a US-Canadian human rights delegation visiting Haiti. He had been pressing for changes to the constitution so that Haiti would never again have an army, and shortly before his abduction he had announced his intention to stand for the Senate, an election he was most likely to win.
¨Fondayson Trant Septanm holds weekly vigils, like the Mothers of the Disappeared in Central and South America. Its members have been targeted.
¨Amnesty International has issued two reports for Lovinsky's return and the safety of his colleague, Wilson Mésilien, who has been forced into hiding.
¨Lovinsky's wife Michelle and their sons, US Congresswoman Maxine Waters, UK parliamentarian John McDonnell, Pax Christi Intl., actors Danny Glover and Vanessa Redgrave, authors George Lamming and Benjamin Zephaniah and thousands of concerned people have appealed to Haiti's President René Préval and to the UN.
¨Weekly vigils and fasts have been held in a number of countries for the past year putting pressure on Brazil, head of UN forces in Haiti, and on the US, Canada and France which organized the 2004 coup. In London there is a weekly vigil in front of the Brazilian embassy every Wednesday.
¨The world owes a huge debt to the Haitian people. Their 1804 revolution was the first to overthrow slavery, making way for emancipation throughout the region and strengthening liberation movements everywhere.
Haiti directly aided South American Liberator Simón Bolivar.
¨But Haiti paid for its victory. France imposed a crippling debt forcing Haiti to pay for its loss of slaves and costs incurred from the Haitian Revolution. The US imposed coups, invasions and dictators. They killed thousands and forced many others into exile. A tiny elite has profited from sweatshops which exploit an impoverished population, and from the destruction of local farming to make way for US rice. With food price increases half the population now faces starvation.
¨The people of Haiti have never given up. Lovinsky Pierre-Antoine, beloved father, community organiser and member of Aristide's Lavalas movement, represents their revolutionary resistance and determination. Ending poverty and human rights abuses have been central to his work.
We are all connected by the thread of solidarity in day-to-day struggle for a world of equality, justice and peace. On 12 August you can:
Participate in the vigil
Fast for Lovinsky's release
Fast at another time
Add your name to the international list of fasters
Sign and ask your friends and colleagues to sign the petition at http://www.petitiononline.com/lovinsky/petition.html
Download the petition as a word document and collect signatures
Write/fax/e-mail the Brazilian Embassy the UN Stabilization Mission in Haiti (MINUSTAH), the US Embassy in Haiti, and Haitian President Préval. Visit the Lovinsky blog at http://www.lovinsky.org/ for addresses and latest information, or contact Or contact Global Women's Strike 020 7482 2496 womenstrike8m@server101.com