by the Associated Press. Originally posted in the Boston Herald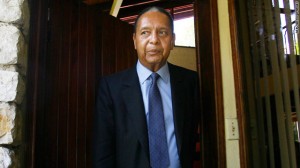 PORT-AU-PRINCE, Haiti–A Haitian judge on Thursday summoned Jean-Claude Duvalier to appear in court after the former dictator defied an order to attend a hearing to determine whether he should again face charges for human rights abuses committed during the nearly 15 years of his brutal regime. A prosecutor said the judge's order requires Duvalier to appear in court next Thursday.
In an airless courtroom filled with human rights activists, journalists and other observers, magistrate Jean Joseph Lebrun also dismissed an appeal filed by the defense team that sought to take the case to the Supreme Court.
The rulings in Haiti's Court of Appeal provided some hope to a group of plaintiffs who are seeking to have the former dictator better known as "Baby Doc" prosecutor for alleged rights abuses. "Today's decision is an important victory for Duvalier's victims who never gave up hope of seeing him in court, and for the Haitian people who have the right to know what happened during the dark years of the Duvalier dictatorship," said Reed Brody, counsel and a spokesman for Human Rights Watch. "It's now up to the authorities to make sure that this summons is swiftly executed."
Continue reading In the News: Haiti's 'Baby Doc' summoned to court after no-show