by the Associated Press. Originally posted in the Boston Herald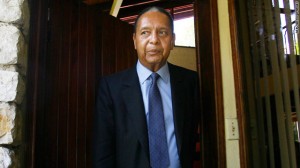 PORT-AU-PRINCE, Haiti–A Haitian judge on Thursday summoned Jean-Claude Duvalier to appear in court after the former dictator defied an order to attend a hearing to determine whether he should again face charges for human rights abuses committed during the nearly 15 years of his brutal regime. A prosecutor said the judge's order requires Duvalier to appear in court next Thursday.
In an airless courtroom filled with human rights activists, journalists and other observers, magistrate Jean Joseph Lebrun also dismissed an appeal filed by the defense team that sought to take the case to the Supreme Court.
The rulings in Haiti's Court of Appeal provided some hope to a group of plaintiffs who are seeking to have the former dictator better known as "Baby Doc" prosecutor for alleged rights abuses. "Today's decision is an important victory for Duvalier's victims who never gave up hope of seeing him in court, and for the Haitian people who have the right to know what happened during the dark years of the Duvalier dictatorship," said Reed Brody, counsel and a spokesman for Human Rights Watch. "It's now up to the authorities to make sure that this summons is swiftly executed."
Thousands were imprisoned, tortured or killed during Duvalier's 1971-1986 regime for opposing the government. He was ousted in a popular revolt.
The Duvalier case appeared dormant until it went before Haiti's Court of Appeal in January. It had marked time since a lower court judge ruled in January 2012 that Duvalier should face charges only on alleged financial crimes rather than human rights abuses associated with his regime. That decision came in a formal investigation of Duvalier after he suddenly returned to Haiti in early 2011 from 25 years in exile.
Haitians who claim to have suffered from abuses by the dictatorship appealed seeking to reinstate the rights abuse charges, while Duvalier's defense team appealed the charges of financial crimes, for which he would serve five years in prison if convicted.
Outside a circle of activists and plaintiffs, the case has gone largely unnoticed in Haiti, where more than half of the 10 million people weren't even alive during Duvalier's rule. The Duvalier years are not included in the curriculum at Haiti's schools.
While some 2,000 to 3,000 people are locked up in prolonged detention, Duvalier has been allowed to live in a villa in the hills above the capital during the proceedings. He's been spotted in the high-end restaurants of Port-au-Prince and has ventured out to the countryside despite a judge putting him under his house arrest. The government reissued Duvalier's diplomatic passport in December.
Attorneys for people who filed complaints alleging they were tortured by agents of Duvalier's regime urged the judge on Thursday to have the former leader arrested for not showing up in court. It was the third time that the ruler ignored the court, for which he hasn't been penalized. The appeals hearing brought dozens of observers, from journalists to international rights activists who flew in specifically for the case.
The two earlier hearings ignored by Duvalier were raucous and sometimes volatile, but Thursday's session was more orderly.
Defense attorney Reynold Georges, a brash former senator known for making long speeches, criticized the judge for dismissing his appeal to the Supreme Court. "It's a decision that they made without consent of the law," Georges said.
Plaintiffs seeking to reinstate the rights abuse charges expressed hope that Duvalier may now finally be forced to appear in court to testify. "They are really going to force him to come here," said Robert Duval, a plaintiff and former soccer star who was imprisoned during the Duvalier era. "No more hanky panky anymore. They have to bring him here."