by Alexander Britell, originally posted at The Caribbean Journal
Nigel Fisher has been named the new head of the UN's MINUSTAH peacekeeping mission in Haiti, Secretary General Ban Ki-moon announced Friday.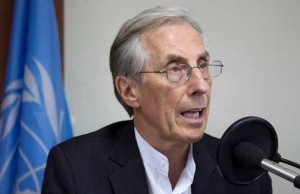 Fisher, a native of Canada, has served since 2010 as the Deputy Special Representative, UN Resident Coordinator and Humanitarian Coordinator in Haiit.
He has also been named as Bans' Acting Special Representative for Haiti, succeeding Chile's Mariano Fernandez in both roles. Fernandez' 20-month term ended on Thursday.
"Mr Fisher brings to the position a thorough knowledge of the political, security and socio-economic situation in Haiti," the world body said in a release.
Fisher led the UN team which developed the Haiti Post Disaster Needs Assessment with national authorities following the 2010 earthquake in Haiti.
He is a former CEO of the United Nations Children's Fund Canada, among positions across the globe, including in 12 developing countries in Asia, the Middle East and Africa.
Fisher led the drive in 2012 for increased humanitarian aid for Haiti, citing a "disappointing" international response to the Consolidated Appeal for Haiti last year.