by Kevin Edmonds, NACLA
According to a report released on August 31 by Secretary-General Ban Ki Moon regarding the United Nations Mission for Stabilization in Haiti (MINUSTAH by its French acronym), it appears that the renewal of the highly controversial mission will occur once again without any meaningful debate. Moon's report effectively acts as a rubber stamp of approval for the occupation, stating that he was "Reaffirming my commitment to continue to focus the activities of the Mission, I recommend that the Security Council extend its mandate of one year, until 15 October 2013."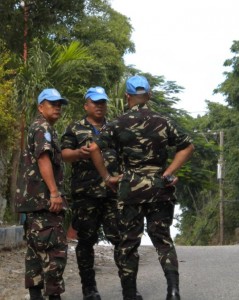 MINUSTAH's reputation and credibility as a stabilizing force has been shattered since the introduction of cholera into the island by the negligence of both the troops and shoddy base infrastructure in October 2010. Up until the deployment of Nepalese troops in the Artibonite Valley that October, Haiti had never experienced a cholera outbreak. According to the latest figures, the cholera epidemic has killed over 7,500 people, infecting another 590,000.
To date, the United Nations has refused to take responsibility for their role in the epidemic, despite "irrefutable molecular evidence" that the Haitian strain was virtually identical to the Nepalese strain. Reports from American medical researchers at the Center for Disease Control, in addition to separate French and Danish teams, have all confirmed that the MINUSTAH base in Mirebalais was the source of the cholera strain.
Even Bill Clinton, United Nations Special Envoy to Haiti, confirmed that MINUSTAH troops were the source of the outbreak, albeit in a unique fashion. "First of all, the United Nations has spent a great deal of money in Haiti," remarked Clinton in March. "Secondly, I don't know that the person who introduced cholera in Haiti, the UN peacekeeper, or soldier from South Asia, was aware that he was carrying the virus." He went on to state that "Unless we know that he knew or that they knew, the people that sent him, that he was carrying that virus and therefore that he could cause the amount of death and misery and sickness, I think it's better to focus on fixing it."
Despite this admission, the United Nations continued to deny any responsibility, stating that "The four-member panel (setup by Ban Ki Moon) concluded that it was not possible to be conclusive about how cholera was introduced into Haiti, and that the cholera outbreak was caused by a confluence of factors, and was not the fault of, or deliberate action, of a group or individual….And in relation to former President Clinton's reported remarks to the press yesterday in Haiti; we note that he emphasized the importance of focusing on improving Haiti's sanitation system and the fact that the United Nations and others are working hard to do this."
The lack of accountability and responsibility of MINUSTAH extends beyond the cholera epidemic and is in fact emblematic of how the force has dealt with previous accusations and charges of human rights abuses, ranging from political oppression, to sexual assault, rape, and extrajudicial murder.
In March of this year, three Pakistani members of the UN Police were sentenced to one year in prison after they were found guilty of rape. This is a small victory amidst a sea of impunity, such as the 100 Sri Lankan troops who were repatriated in 2007 for widespread allegations of engaging in "transactional sex with underage girls" but did not face any charges.
However, this precedent, no matter how disproportionate to the crime, did not last very long. Most recently, in August, five Uruguayan soldiers who videotaped themselves raping and sexually assaulting a young Haitian man on video in September 2011 have had the charges reduced from sexual abuse to coercion.
MINUSTAH's mandate is up for renewal on October 15. As the statements of Ban Ki Moon indicate, the opinions and concerns of the Haitian people and government are not important in determining the future of the mission. A February Security Council Report argued that Haitian "Parliamentarians shared frank and mostly critical views on MINUSTAH. They called for the mission to compensate cholera victims and to swiftly punish those within MINUSTAH responsible for incidents of sexual exploitation and abuse of Haitians."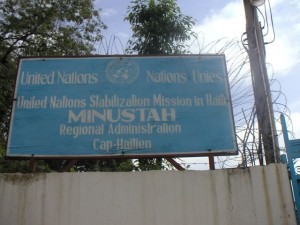 Furthermore, MINUSTAH has an approved budget (July 2012-July 2013) which stands at $676,707,100. The mission's previous budget for 2011 was over $853 million. Putting this into the perspective of the cholera epidemic, the allocated funding for MINUSTAH's guns and soldiers could be put to much better use.
At one of the first post earthquake donor's conference in March 2010, held in the Dominican Republic, Cuba made one of the most generous, necessary, AND underreported proposals related to reconstruction. At the conference, Cuba offered to completely reconstruct the Haitian healthcare system over a ten year period, with an estimated cost of $690.5 million. In one of the only articles on the topic, in April 2010, Emily Kirk, John Kirk and Norman Girvan reported the details of the three levels of the deal:
The primary level will include 101 clinics to treat annually an estimated 2.8 million patients, perform 1.3 million emergency operations, deliver 168,000 babies, and provide 3 million vaccinations.
The secondary level will be provided through 30 community hospitals. They will have the capacity to treat annually 2.1 million patients, and provide 1 million emergency surgeries, 54,000 operations, 276,000 electro-cardiograms, 107,000 dental exams, 144,000 diagnostic ultrasounds, and 487,000 laboratory tests. In addition, due to the high numbers of poly-traumatized patients, the 30 rehabilitation rooms will be included throughout the country and will provide 2.4 million therapeutic treatments for some 520,000 patients.
The tertiary level of health care will be delivered by the Haitian Specialties Hospital, staffed by 80 Cuban specialists. It will contain various clinical departments and will be used for research and teaching, as well as the further training of Haitian professionals who will gradually replace the Cuban professionals.
Finally, 312 additional medical scholarships are to be provided for Haitian students to study in Cuba.
In addition to the Cuban proposal for a sustainable healthcare system, the Centre for Disease Control has estimated that the installation of clean water and sanitation systems will cost $800 million to $1.1 billion. Looking at MINUSTAH's budget or the $10 billion which has been promised, but not delivered to Haiti, it begs one to ask what is going on with the reconstruction and occupation— in whose interest is Haiti being rebuilt and occupied? MINUSTAH's justfication that high levels of violence and insecurity in Haiti warrants their presence, doesn't hold up when levels of violence in neighbouring Caribbean islands or even many urban centers in the United States are taken into consideration.
What MINUSTAH's near certain renewal on October 15 essentially means is another year of impunity for MINUSTAH, whose mandate entrusts them with the protection of the Haitian people on paper—but routinely and unapologetically violates their human rights in practice. Better options are available but are not considered. Why?