Originally posted at sacbee.com
MIAMI — There's a new Caribbean destination being promoted to travelers passing through Miami.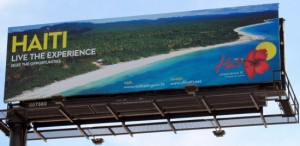 A billboard promoting Haiti was installed last week above Interstate 95 in Miami. The message "Live the experience – Seize the opportunities" is printed across an image of a tropical coastline and clear blue waters.
Haiti's ministry of tourism and its consulate in Miami put up the billboard in the hopes of attracting tourists and investors to the country. Political instability, chronic poverty and disasters such as the 2010 earthquake have long crippled tourism and development in Haiti.
Haiti shares the island of Hispaniola with the Dominican Republic, which boasts many popular resorts.
Consul General Francois Guillaume says the billboard is the first in a series of media campaigns to boost Haiti's image.