by Jacqueline Charles and Nadege Green, The Miami Herald, Dec. 10, 2012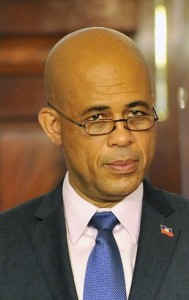 Haitian President Michel Martelly said Monday he plans to introduce an amendment in parliament giving millions of Haitians living in the diaspora, including South Florida, the right to vote in future elections. "Of course it will be up to the parliament to decide if it goes through," Martelly said during a press conference Monday after an all-day invitation-only diaspora forum with members of the Haitian-American community at the North Miami Beach Library.
Martelly arrived in Miami over the weekend after a tour of Japan. He said he proposed the South Florida visit and the meeting with the Haitian community "to first of all thank the diaspora for their support" during his historical 2011 presidential victory and "to inform them on the progress in Haiti and finally to find a way to engage them to help us really develop Haiti."
"I believe there is more that can be done by the diaspora," he said. "But before we even ask for anything, I thought it was very important that we come here to not just tell them what we do, but also show them."
Among the progress, he said: 1.2 million children in school under a tuition waiver program; 329 rebuilt schools following the devastating January 2010 earthquake; a rebuilt airport in Port-au-Prince and the filling of vacancies on the country's highest court. "Haiti has changed a lot" because it has a government that cares, said Martelly, who fired back at his critics, saying he will complete his term.
"When I was campaigning, I told the people if nothing happens under my mandate it will still be a positive thing because my mandate will be used as a rupture between the past and the future," Martelly said. "When you put more than a million kids in school, you take a plane today and go to Haiti, you cannot see the results. You will see the results in 30 years when you see a different type of Haitian."
North Miami Beach officials estimated 1,500 Haitians came to hear Martelly give what his government called, "A State of the Country" address at the Gwen Margolis Amphitheater. He was joined by six government ministers, including Prime Minister Laurent Lamothe, Secretary of State for Public Security Reginald Delva, presidential adviser and former Senate President Joseph Lambert, and first lady Sophia Martelly also attended.
About a block from the venue, a small group of protesters held up signs, denouncing Martelly. Their major criticism was the lack of transparency over a surcharge on Haiti-bound wire transfers and phone calls that are supposed to fund Martelly's free school initiative. "Our message is that not everyone is happy with how he is governing the country," said protester Jose Davilmar of Fort Lauderdale. "We have a lot of questions about the tax that have not been answered. Who has control of that money? How much money is there? How is it being spent? We need transparency."
Martelly said $16 million has been raised since the tax was introduced in May 2011, and "we haven't touched one penny of it."
Inside the venue, others were more willing to give the president a chance, welcoming the news of his proposed constitutional change. "We should be able to vote in Haiti even if we are naturalized U.S. citizens," said Alkebul Amen-Ra, 60, who has lived half of his life in the United States. The president, he said, wasn't perfect and was more musician than politician.
Martelly has not had an easy time during his 19 months in office. His administration has been plagued by monthly protests over rising food prices and a protracted electoral crisis over the installation of a permanent elections council to oversee elections. The government also has been hit with corruption charges and scandals.
Last month, the government announced a state of emergency after Superstorm Sandy created $104 million in agriculture damage and left up to 1.5 million Haitians facing hunger. Meanwhile, the growth projection was recently lowered from 8 percent to 2 percent by international economic forecasters, and the United Nations independent human rights expert blasted the government for poor governance, saying despite leaders' statement that the country is open for business, Haiti still has a long way to go when it comes to rule of law.
And on Monday, human rights experts and others continued to highlight Haiti's challenges: a report by the international aid group, Oxfam, said that despite reducing the quake victims in camps from 1.5 million to 370,000, 86 percent of people living in camps in Delma area of Port-au-Prince say they are unable to leave and they live with under the fear of forced eviction.
In Haiti, human rights advocates and students protested outside the United Nations peacekeeping base demanding that the global body take responsibility for the deadly cholera epidemic that has sickened more than a half million Haitians and left 8,000 dead. The protests came a day before U.N. Secretary General Ban Ki-moon is expected to launch a $2.2 billion initiative to help eliminate the waterborne disease in both Haiti and the neighboring Dominican Republic over the next decade.
In the strongest statement by any Haitian leader since the disease arrived in Haiti, 10 months after the quake, Martelly said Monday that while he won't engage in the debate about who's responsible for cholera in Haiti, the Untied Nations "certainly" should take responsibility. "The UN knows better than me who has brought cholera to Haiti," he said. "The U.N. itself could bring money to the table."