by Andy Blatchford, with files from Associated Press. Originally posted at The Prince George Citizen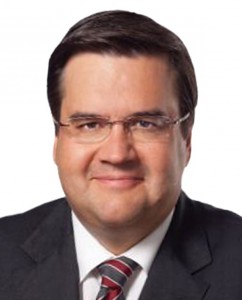 MONTREAL – A prominent Haitian human-rights lawyer is calling on former federal cabinet minister Denis Coderre to apologize for allegedly lying about Canada's involvement in the ouster of the Caribbean nation's president 10 years ago.
Attorney Mario Joseph made the request Thursday during a visit to Montreal that coincided with the anniversary of Jean-Bertrand Aristide's removal from office on Feb. 29, 2004.
At the time of Aristide's expulsion, Coderre was the Liberal minister responsible for French-speaking countries such as Haiti.
Coderre, who was elected mayor of Montreal last November, says he has nothing to apologize for.
Joseph, who has represented the ex-president, alleged that Coderre lied in the days before Aristide's removal from office when he said Ottawa did not want the Haitian leader to leave.
He accused Coderre of lying again, shortly after Aristide's departure, when he stated the president had not been forced out and had quit on his own.
The lawyer also accused Canada of playing a major role in the U.S.-backed "coup d'etat" to overthrow Aristide, Haiti's first democratically elected president in its 200-year history.
Since Aristide's expulsion, Joseph argued human rights and democracy have suffered in the crisis-stricken country.
"We're here today to talk about Canada's harmful role in Haiti, and particularly about the coup d'etat of Feb. 29, 2004," he told a small gathering of journalists in downtown Montreal.
"We can't discuss Canada's harmful role without explaining to you the just-as-harmful role of Mr. Denis Coderre and his lies to the Canadian people."
Coderre was asked later Thursday about Joseph's allegations and the former Liberal cabinet minister told The Canadian Press he rejected them.
"I'm against revisionism, so look at the facts and you'll know, as a minister of Francophonie or as an adviser of the prime minister, I am a friend of Haiti," said Coderre, who left federal politics last year to win the mayor's job in Canada's second-largest city.
"I was always there to accompany them, always there to be part of the solution and you have some people who try to bring some internal (Haitian) politics in Canada."
Coderre, whose old federal riding in Montreal is home to a large Haitian population, said his first foreign trip as mayor will take him to the island nation in mid-March. During the multi-day trip, he will be part of a Canadian delegation focused on helping rebuild the Haitian capital of Port-au-Prince.
When asked about Joseph's allegation that he lied about Aristide's ouster, Coderre replied: "It's a non-issue. You're looking for a story that doesn't exist."
In February 2004, amid a violent uprising, Coderre joined an international delegation in Haiti aimed at pushing the embattled Aristide to move forward with reforms to ease tensions. The rebellion against Aristide's rule had left 60 dead in the country.
Coderre said at the time that Ottawa would not call for the president to step down.
"We clearly don't want Aristide's head," Coderre said on Feb. 19, 2004. "We think Aristide must remain in place."
Ten days later Aristide was removed from office and exiled to Africa.
The White House and Pentagon dismissed allegations he was kidnapped by U.S. forces eager for him to resign and leave the country.
Joseph alleged Thursday that Coderre said Aristide made the decision to quit as president, a statement he insisted the former president has denied. He said Aristide himself told him he was forced out.
Aristide, a former Roman Catholic priest, remains one of the most popular political figures in Haiti.
Viewed as a champion of the country's poor, Aristide led a movement to oust dictator Jean-Claude "Baby Doc" Duvalier.
Aristide, however, alienated Haiti's wealthy elite and was forced out of the presidency in a 1991 coup, within months of becoming Haiti's first democratically elected leader. U.S. troops restored him to power three years later.
Joseph, who has represented Aristide since he returned to Haiti in 2011 from exile, criticized the United Nations peacekeeping force in Haiti, which was established after the president's expulsion.
He said freedom of expression in Haiti as well as the basic human rights to education, health care, housing and employment have been disrespected since Aristide left. Things got worse, he added, after the powerful 2010 earthquake that killed an estimated 300,000 people and forced more than a million Haitians into tents.
Joseph also discussed the cholera epidemic that surfaced in Haiti in 2010, an outbreak that has killed 8,000 people. Studies have shown it was likely introduced in Haiti by UN soldiers, whose infected waste seeped into a river.
He wants the UN peacekeeping force, known as MINUSTAH, to leave.
"After lying to the whole world, Canada, the United States and France put in place an occupation force to protect their interests," Joseph said, adding that Canadian firms have economic stakes in Haiti in areas such as mining.
"Haiti can emerge from its situation. The imperialists must leave us in peace, (they) must leave us to manage it ourselves."