Haiti's New Dictatorship: The Coup, the Earthquake, and the UN Occupation – Book launch with author Justin Podur
November 29, 2012 @ 7:00 pm

-

9:00 pm

Free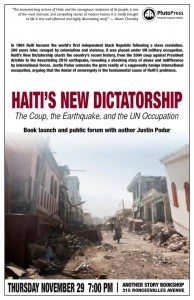 In 1804 Haiti became the world's first independent black Republic following a slave revolution. 200 years later, ravaged by colonialism and violence, it was placed under UN military occupation.
Haiti's New Dictatorship charts the country's recent history, from the 2004 coup against President Aristide to the devastating 2010 earthquake,revealing a shocking story of abuse and indifference by international forces. Podur unmasks the grim reality of a supposedly benign international occupation, arguing that the denial of sovereignty is the fundamental cause of Haiti's problems.
A powerful challenge and wake-up call to the international NGO and development community, *Haiti's New Dictatorship* is essential reading for anyone concerned with justice in the global south and progressive development policies.
Full book tour schedule available here and here.
Book tour co-sponsored by the Canada Haiti Action Network
Endorsements for Haiti's New Dictatorship
The centuries-long torture of Haiti, and the courageous resistance of its
people, is one of the most dramatic and compelling stories of modern
history. It is vividly brought to life in this well-informed and highly
illuminating study, which also provides valuable lessons about Haiti, about
western power and ideology, and about prospects for justice and freedom in
today's world.
—Noam Chomsky, Institute Professor & Professor of Linguistics (Emeritus) at MIT
Justin Podur's book is a cogent antidote to the current confusion about Haiti. It explains how a country that is nominally democratic suffers under the yoke of a 'New Dictatorship' in which international actors and their Haitian elite partners leave the majority of Haitians with little effective influence over their own economic and political affairs.
—Brian Concannon, Director of the Institute for Justice and Democracy in Haiti
The UN occupation of Haiti promised to bring stability and democracy. Instead it has delivered cholera, rape and repression. With a sharp eye and a keener pen, Justin Podur expertly exposes the abuses the gang of nations that calls itself 'the international community' has inflicted on one of the world's poorest countries – from the brutal imposition of structural
adjustment and the driving out of a democratically elected president to the politicisation of earthquake relief. Enough is enough.
—Greg Grandin, Professor of History at New York University
With the country firmly held in the long-term grip of a foreign 'stabilisation' force, the vast majority of Haiti's people have little or no political power. Justin Podur's book is a systematic analysis of the new regime of power that governs Haiti today, and reviews the crucial episodes of its recent history. It makes a valuable new contribution to the study of the decisive 2004-2006 post-coup period and offers a timely overview of the whole period of post-Aristide Haiti, right up to the present day.
Peter Hallward, Professor of Modern European Philosophy at Kingston
University and author of *Damming the Flood: Haiti, Aristide, and the
Politics of Containment*
For more information, visit Between the Lines Press.