by Jacqueline Charles — The Miami Herald. Originally posted on Anchorage Daily News
MIAMI – The political climate was tense in Haiti's capital Wednesday as scores of demonstrators and opposition lawmakers protested the arrest of a prominent attorney leading a corruption case against the first family.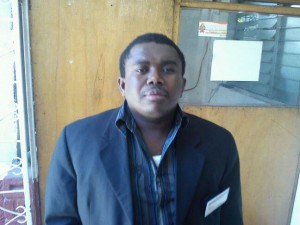 Protesters showed up at the downtown Port-au-Prince courthouse where Andre Michel, a lawyer and government critic, was scheduled for an appearance after his arrest Tuesday night. Michel was accused of obstructing justice after refusing to allow police and the district attorney to search his car. His arrest, well after a 6 p.m. constitutionally mandated cutoff for arrests not related to immediate criminal events, triggered protests and accusations that Haiti had re-entered a dictatorial era.
"Once again the executive has continued with its flagrant violation of the Haitian Constitution," Sen. Francky Exius said.
As protesters denounced Michel's arrest, President Michel Martelly shared a brief phone call with U.S. Vice President Joe Biden Wednesday afternoon. A White House statement made no mention of the demonstrations, which earlier in the day triggered a warning from the U.S. Embassy in Port-au-Prince about rock throwing near the presidential palace.
The conversation, instead, focused on Haiti's long-delayed legislative and local elections, according to the White House.
The statement said Biden "welcomed President Martelly's commitment to continue working to further strengthen Haiti's democratic institutions, including by maintaining a strong and independent legislative branch."
The delay in holding elections has been a source of mounting tensions in Haiti, and the opposition found a renewed cause with Michel's arrest.
As Michel waited to appear before a judge, a crowd stormed past police into the courthouse, freed Michel from custody and took him to a nearby office, his lawyer, Newton St. Juste, said. Michel was later rescued by Exius and other opposition senators, who had called an emergency session of the Haitian Senate.
Attempts to reach Francisco Rene, the district attorney, were unsuccessful.
Michel had been in hiding for months after the government issued what critics call a questionable arrest warrant against him in the 2010 murder of a student. But in recent weeks, he has appeared at two anti-government protests.
While on his way home Tuesday night, Michel was detained and arrested by a special branch, CIMO, of the Haiti National Police, which used tear gas to move the crowds protecting Michel.
St. Juste said Michel's arrest was a sign that Haiti had entered into an era of dictatorship under Martelly.
The Haiti protests erupted on the same day that French-based Reporters Without Borders called on Haiti's Justice Ministry to investigate allegations that unidentified persons recently tried to kill one of the country's most well-known and vocal radio journalists, Jean Monard Metellus.
Haiti's Justice Minister Jean Renel Sanon issued a statement on Saturday saying that his ministry had reliable information that a contract had been taken out on Metellus, who was supposed to be killed by two motorcycle hit men for $10,000. The note did not say if anyone was in custody, but Sanon promised state protection for Metellus.
"This protection needs to materialize quickly, just as a rapid investigation into the origin of the threats is also needed," the journalist watchdog group said.
But the organization, echoing concerns of other Haiti-based journalist organizations, warned Haitian authorities not to manipulate the case as part of the ongoing "in-fighting between different government factions."