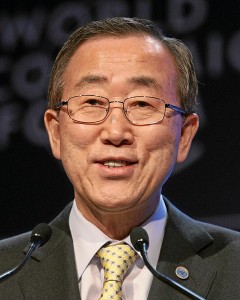 Lawyers for victims of a cholera epidemic in Haiti said on Friday they have served United Nations Secretary-General Ban Ki-moon with a complaint in New York as part of a federal lawsuit seeking compensation for the outbreak, which they blame on U.N. peacekeepers.
Ban was entering an event at The Asia Society in Manhattan when he was handed the court papers by a process server, according to a statement by lawyers representing the plaintiffs.
A U.N. spokesman, however, said Ban was not served because his security did not allow him to accept the complaint.
"Ban Ki-moon was served personally. Not wishing to receive what he was given is not a defense, said Stanley Alpert, one of the attorneys for the plaintiffs. "He must now answer or move or be in default personally and for the U.N.," he added.
Continue reading In the News: U.N. chief served with Haiti cholera complaint, lawyers say