by Brian Fitzpatrick
Thursday, 05 July 2012 15:35, originally posted at Upside Down World
"I am in charge of Haiti!" one excited former soldier in his fifties exclaims. The others laugh on cue, one of them holding a handgun casually by his side. Swinging around to pose for the camera, an older man in fatigues carelessly waves the barrel of his machine gun past me at chest height. Two hours north of Port-au-Prince, in the town of Saint-Marc, we've received our first introduction to the 3,000-strong band of military enthusiasts dubbed Haiti's "rogue" army.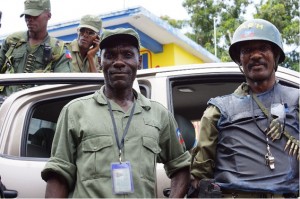 Two-hundred yards past a police checkpoint, the illegal group has set up its own road stop in full view of passing UN vehicles; a green blur of ill-fitting helmets, mismatched uniforms and bullet belts. It is Bonne Fête Saint-Marc, the town's annual celebration, and they've chosen the big day for a show of force. Remarkably, the nearby UN personnel and Haitian police (PNH) maintain only a watching brief.
Continue reading In the News: Haiti's Military Monster Makes a Creeping Comeback