Originally posted at Al Jazeera English.
Officials fear rising food prices and an increase in cholera cases in Caribbean nation where storm killed 52 people.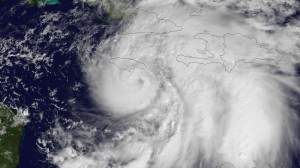 As Sandy causes havoc throughout the eastern US, the full extent of the storm's damage is just beginning to emerge in the Caribbean nation of Haiti.
The UN is warning that flooding and unsanitary conditions could lead to a sharp increase in cases of cholera, while aid workers are worried that extensive crop damage will mean that food prices will rise.
Extensive damage to crops throughout the southern third of the country, as well as the high potential for a surge in cases of cholera and other water-borne diseases, could mean Haiti will see the deadliest effects of Sandy in the coming days and weeks.
Continue reading In the News: Haiti food crisis feared in Sandy's wake