by John Maxwell, originally posted at The Jamaica Observer, January 17th, 2010
If you shared my pain you would not continue to make me suffer, to torture me, to deny me my dignity and my rights, especially my rights to self-determination and self-expression.
Six years ago you sent your Ambassador Extraordinary and Minister Plenipotentiary to perform an action illegal under the laws of your country, my country and of the international community of nations.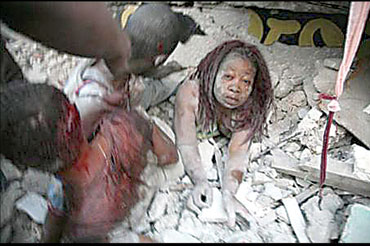 It was an act so outrageous, so bestially vile and wicked that your journalists and news agencies, your diplomats and politicians to this day cannot bring themselves to truthfully describe or own up to the crime that was committed when US Ambassador James Foley, a career diplomat, arrived at the house of President Jean-Bertrand Aristide with a bunch of CIA thugs and US Marines to kidnap the president of Haiti and his wife.
The Aristides were stowed aboard a CIA plane normally used for 'renditions' of suspected terrorists to the worldwide US gulag of dungeons and torture chambers.
Continue reading In the News: No, Mister! You Cannot Share My Pain!