A mailing from the IJDH alerted me to this powerful short film, Baseball in the Time of Cholera. Brian Concannon writes:
Baseball in the Time of Cholera is a powerful 29-minute documentary that tells the true story of 14 year-old Joseph Alvyns and the ways in which the cholera epidemic changed his young life forever. Baseball also prominently features BAI's managing attorney, Mario Joseph's tireless work to achieve justice for victims of cholera. This film will bring Haitians' fight for justice to the world stage.

By making this film freely available online, our partners at Ryot, led by Directors David Darg and Bryn Mooser and Executive Producer, actress Olivia Wilde, are igniting a global campaign to share the message with as many people as possible: it's time for the UN to "UNdeny."

Ryot decided to feature our work in their film because they recognized that the fight for justice is an essential part of the solution to Haiti's cholera epidemic. As IJDH supporters, you are an important part of this opportunity. Social media is changing the face of advocacy, and showing the UN that huge numbers of people support our clients' fight.
The film includes many good moments with Mario Joseph and Brian Concannon.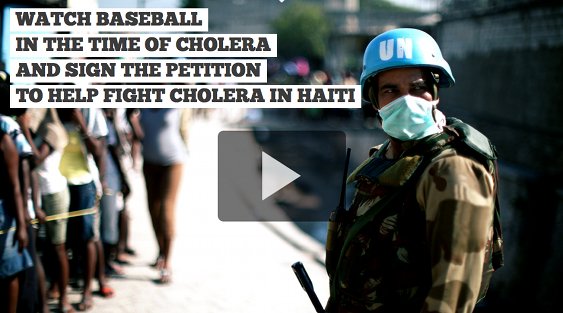 One of the important points that Concannon makes in the film is that the UN is quick to find funding for an elaborate and long-term MINUSTAH presence in Haiti, but that it's comparatively sluggish about finding funding to halt the spread of a disease that it caused.
I'd be remiss if I didn't point out that the IJDH takes donations to support their case to hold the UN accountable for its role in the cholera epidemic. Sadly, the IJDH is not a registered charity in Canada, so Canadians can't get a tax deduction. But the IJDH's work is incredibly important and they can use anything you can offer.