by Jason Hayes
Originally posted at Global Post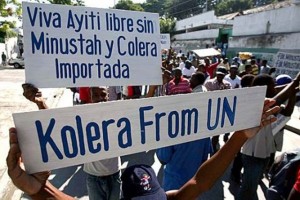 Mojes, a cholera victim who spent five days in the hospital to survive the diarrheal bacterium, and the UN, a conglomeration of 193 countries that will spend $793 million on MINUSTAH this year, might appear to be a mismatch. But Mojes is not alone.
With over 7,000 dead and annual epidemics after the rainy season, more than 15,000 cholera-affected Haitians joined together to file a legal complaint against the UN on November 3, 2011. The case asserts that UN troops from Nepal brought cholera to Haiti when their sewage contaminated a tributary of the Artibonite River in October 2010. Asked what he hopes for from the case, Mojes said, "Make the damages better."
Now, seven months after the complaint was filed, their case sits idle because the UN denies responsibility for bringing cholera to the country. So, where will Mojes and his fellow Haitians go now? When it comes to the largest international organization in the world, one built on the shoulders of almost every country in the world, there is no appeals court: there is no higher governing body.
Continue reading In the News: Cholera case against UN stalls in Haiti